Take a Leisurely Stroll Along the Historic Towns and Villages of Pennsylvania Dutch Country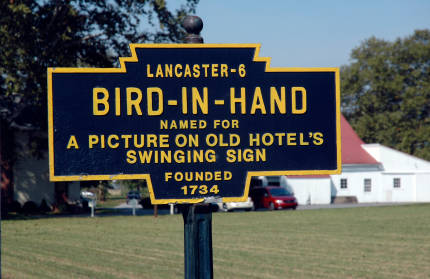 Welcome to Bird-In-Hand, Pennsylvania!
Throughout Pennsylvania Dutch Country you will find idyllic small towns and villages complete with old stone mills, country farmers markets, and family-run shops selling home-made candy and toys.
Founded by German, English, French, Swiss, and Scottish settlers during the 18th Century, the towns and villages of Lancaster County share similar characteristics of a hard-working ethos, simplicity, and cleanliness.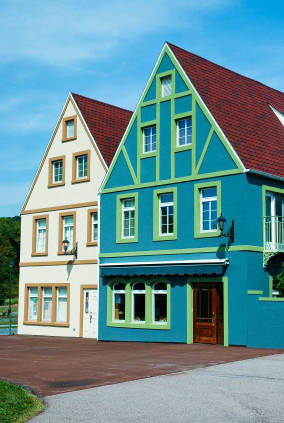 Two townhouses in Lancaster County, Pennsylvania reflecting European architecture featuring bright colors, tiled roofs, and half timbered exteriors
The rich and complex history of Pennsylvania Dutch country can be experienced most strongly in the small towns and villages of Lancaster County. It can be found in the aroma and taste of the local cooking. It can be found in the modern and traditional folk art which is proudly on display in the region's highly-regarded museums and country shops.

This history can be found in the clothing and lifestyle of the Mennonite and Amish peole who can be seen riding in old-fashioned horse-and-buggies and working diligently with traditional machinery on their generations-old farms. People whose culture you can learn and care about from a respectful distance.
You can even observe Lancaster County's history in action such as by attending one of the many small-town auctions where farm machinery, produce, and life stock are purchased the way it has been for generations. One of the convenient features of exploring Lancaster County is that no given town is more than one-hour away by car. Most are a short distance away from each other. This allows many visitors to do what is known as "town-hopping" which is spending several hours (or days!) exploring one town before moving on to the next.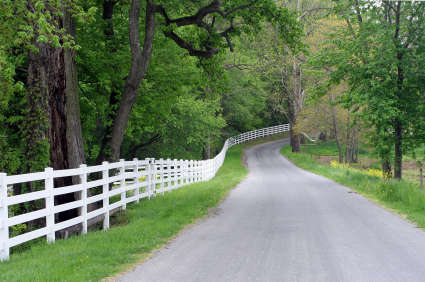 Drive along the scenic country roads as you explore the towns and villages of Pennsylvania Dutch country
The towns and villages of Lancaster County may appear slow-paced, especially if you are accustomed to the fast-pace of a big city, but, perhaps, that is a large part of their charm.
In fact, the best way to fully appreciate the region is simply to take a relaxing stroll along the cobble-stone and tree-line streets. Visit the historic churches and unique covered bridges. Admire the Victorian architecture. Observe farmers preparing their multi-colored fruit and vegetables in the welcoming markets. Savor the aroma of pastries fresh out of the oven and mouth-watering desserts made from traditional recipes.
You and your family will love exploring the many unique towns and villages of Lancaster County:


Central Lancaster County

| | | | |
| --- | --- | --- | --- |
| Bareville | Bird-in-Hand | Brownstown | East Petersburg |


Eastern Lancaster County



Northern Lancaster County



Southern Lancaster County

| | | | |
| --- | --- | --- | --- |
| Buck | Conestoga | Holtwood | Peach Bottom |


Western Lancaster County

Planning on staying for the weekend? How about longer? One of the best ways of exploring Pennsylvania Dutch country is by lodging at a
family-run Bed & Breakfast,
or a
charming historical country inn.
In fact, you can even stay at an
Amish farm.
Not only will such accommodations provide you will a unique experience unavailable anywhere else but it will open up opportunities to meet the locals and get first-hand tips on things to do as well as hear colorful stories of the region.
Return to the Welcome to Lancaster County Home Page Home From
Pennsylvania Dutch Country Towns