Farmers Markets



Farmers Markets are part of the culture and history of Lancaster County. Because of the rich soil, the number of farmers, and the traditions of the people, Lancaster County is known for the variety and quality of its Fresh Produce. Traditionally these markets were how the local farmers sold their goods to the buyer. Although the modern supermarket has decreased the importance of the farmers' market, these markets continue to be a vital part of the community.
Not only can you stock up on the freshest produce, but you will also have loads of fun as you explore these markets. The air is alive with the bright colors of apples, corn and tomatoes; the aroma of fresh-baked pastry; and, the sounds of farmers chatting with their customers.
Here are some Lancaster County Farmers' Markets that you won't want to miss:


Located on Penn Square in Lancaster City, and named one of the country's 63 Great American Public Places, Central Market is the oldest publicly owned market in the country. The current building which houses the market was built in 1889 and is on the National Register of Historic Places.
Though the current building was not in existence when the market began, Central Market has been continuously offering locals and visitors fresh meat, vegetables, breads,and desserts since 1730. You will also be able to purchase specially prepared cuisine made from family recipes that have been passed on for generations, which you can't find anywhere else.
Central Market is also close to other Lancaster sights such as the Heritage Center of Lancaster County which is known for its displays of 18th and 19th furnishings and folk art; the Lancaster Quilt & Textile Museum known for its antique Amish quilts; the Fulton Opera House which is the oldest living theater in the country; and, the Demuth Tobacco Shop which is the oldest tobacco shop in the country.
Central Market is only open on Tuesdays, Fridays, and Saturdays. It is open from 6:00 A.M. to 4:30 PM on Tuesdays and Fridays and from 6:00 A.M.to 2:00 P.M. on Saturdays. The market can get busy at times. The least crowded time to visit is before 8:00 A.M. So, plan you visit accordingly.
Green Dragon Farmers Market & Auction is another noteworthy market that you are sure to want to see. Located on North State Street in Ephrata which is in the relatively quiet northern area of Lancaster County along Route 322, the Green Dragon Market is known as the mother of all farmers markets.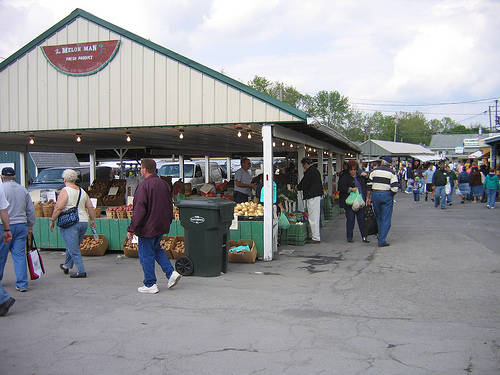 An afternoon outing at the Green Dragon Farmers Market in Ephrata

Every Friday since 1932, over 400 farmers, merchants, and craftsmen offer fresh produce and locally made crafts. The vastness and diversity of the items on display provide hours of leisurely fun as you marvel at the sights around you. To avoid the crowds, you may want to arrive early in the day.
To get to the Green Dragon Farmers Market & Auction, take 272 North from Route 322. Then, make a right onto Garden Spot Road and another right onto North State Street. The market is open from 8:30 A.M. to 9:30 P.M. every Friday from March through December.
Bird-In-Hand Farmers Market is another interesting market to visit to sample Pennsylvania Dutch food, purchase local crafts, or to watch the Amish farmers displaying their colorful harvest.
The market is located at Route 340 and Maple Avenue. From December through March, it is open on Fridays and Saturdays between 8:30 A.M. and 5:30 P.M. During April, June and November, the Bird-In-Hand Farmers Market is open on Wednesdays, Fridays, and Saturdays between 8:30 A.M. and 5:30 P.M. From July through October, it is open Wednesdays through Saturdays between 8:30 A.M.and 5:30 P.M.
Other noteworthy Farmers Markets include the Columbia Farmers' Market and the Roots Market and Conestoga Auction. The Columbia Farmers' Market is located at Third & Locust Streets in Columbia, Pennsylvania. It is open on Fridays from 7:00 A.M. to 4:00 P.M. and on Saturdays from 7:00 A.M. to 2:00 P.M. The Roots Market and Conestoga Auction is located at seven miles north of Lancaster City off Route 72 at 705 Graystone Road in Manheim, Pennsylvania. It is open throughout the year every Tuesday between 9:00 A.M. and 9:00 P.M.
The Roots Market and Conestoga Auction has the added benefit of running auctions for small farm animals, produce and household goods. You don't have to bid in order to watch the excitement and to have a good time.
If you don't have the time to stop at one of the Farmers' Markets during this visit, a popular alternative where you can purchase fresh produce, baked goods, hand-made quilts and local crafts is at one of the numerous roadside stands. These stands are everywhere and many locals drive right past their local market in order to shop at their favorite farm stand.



Return to the Welcome to Lancaster County Home Page from
Lancaster County Farmers Markets