Mount Joy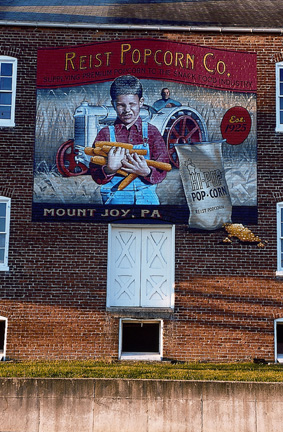 Mount Joy Reist Popcon Company

Despite its name, Mount Joy is not located on a mountain. Instead the Scottish-Irish Presbyterians who settled in Western Lancaster County in the 1730s took the name from Lord Mountjoy, an Englishman who served under Queen Elizabeth I.
Today the town is a tranquil residential retreat containing period restorations that provide residents and visitors an opportunity to walk back in time to centuries past.
One of the most famous attractions is a painstakingly preserved mansion founded by President McKinley's ancestors. President McKinley's great-grandfather found the countryside surrounding Mount Joy so lovely that he built a mansion there in 1805 as a rural retreat for financier and politician Simon Cameron, his son James, and their descendants.
Today it is known as the Cameron Estate Inn, a remarkably well-preserved mansion nestled amidst 15 acres of lawns, rose gardens and woodlands. Listed on the National Register of Historic places and a Lancaster Historic Preservation site, the Cameron Estate Inn offers guests a taste of 19th century elegance. It is certainly worth a visit.

Another popular, must-see attraction of Mount Joy is Bube's Brewery. During the late 19th Century, breweries were very popular in Lancaster County. One of the remaining breweries from this era is Bube's Brewery which was built in 1876 by Alois Bube, a German immigrant. The brewery began as a single brewery and eventually grew into a large complex of buildings.
After the death of Alois Bube in 1908, the brewery continued to produce German-style lager until 1917 which was just before Prohibition.
Bube's descendants continued to live in the brewery buildings until the 1960s. In 1968 restoration began and, in 2001, Bube's Brewery once again was producing their own microbrews.
Even if you are not an alcohol drinker, the brewery is a fascinating place to visit to learn the history of breweries in Lancaster County as well as to learn how beer is brewed. The brewery complex includes a very pretty Victorian hotel to accommodate guests as well as four distinctly different eating and drinking establishments: Alois, The Catacombs Restaurant, The Biergarten Restaurant, and The Bottling Works.
Each of these establishments provide a unique atmosphere along with delicious local and regional cuisine and drinks.
On one last note, although Bube's is, indeed, a working brewery and hosts several beer-themed events throughout the year, don't be afraid to bring your children. Bube's is a family-friendly environment providing attractions for child and adult alike.



---
Return to the Towns and Villages of Pennsylvania Dutch Country


Return to the Welcome to Lancaster County Home Page from
Learning about Mount Joy