Amish Stores and Country Shops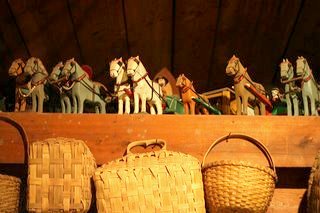 Photo by Katie Reing


Lancaster County has some really interesting Amish stores where you can buy locally made arts & crafts, Amish furniture, folk art, Amish quilts, pottery, weather vanes, toys, clothing, Hex signs, and other items unique to Lancaster County. There are even some shops to purchases freshly baked goods for refreshment.
The country and Amish stores recommended on this page are either owned and operated by Amish and Mennonite proprietors or simply specialize in authentic goods created by the Amish or Mennonite communities.
In any case, it is quite an experience wandering through some of these old-fashioned Amish stores. It often feels as if you're walking back in time and soaking up the atmosphere of a different era.
These country Shops and Amish Stores are listed by the town in which they are located. Please remember that most local shops, and especially the Amish stores, in the region are closed on Sundays.


Bird-In-Hand
Country Barn & Crafts
2808 Old Philadelphia Pike, Bird-in-Hand, PA 17505
Phone: 717-768-0338
This refurbished barn is run by an Amish family. There are many quilts, wall, hangings, Amish dolls and crafts to choose from.
Fisher's Handmade Quilts
2713A Old Philadelphia Pike, Bird-In-Hand, PA 17505
Phone: 717-392-5440
Quilts, rugs, pillows. wall hangings, Amish dolls and much more. Many of the items are handmade by Amish and Mennonite women working out of their own homes sitting at their quilting frame.
Little Red Wagons
1090 Mondale Road, Bird-In-Hand, PA 17505,
Phone: 717-656-9605
Old-fashioned woodcraft wagons handmade from the finest hardwood at the shop. The sturdy wagons are suitable for pleasure riding as well as for gardening
Millers Natural Foods
2888 Miller Lane, Bird-In-Hand, PA 17505,
Phone: 717-768-7582
This country gas-lit store sells a wide variety of natural and health foods in the old Amish style.
Sylvia Petersheim Quilts & Crafts
2544 Old Philadelphia Pike, Bird-in-Hand, PA 17505,
Phone: 717-392-6404
Over 200 handmade quilts as well as wall hangings, pillows, potholders and other crafts. You can even design your own quilt pattern.
&nbsp
Christiana
ABC Woodcraft
1698 Georgetown Road, Christiana, PA 17509,
Phone: 717-529-3285
This Amish store located on the eastern border of Lancaster County specializes on some fantastic children's furniture and toys. Cradles, rockers, red wagons, rocking & hobby horses, clothes trees, swing sets, musical train penny banks are on display.
&nbsp
Denver

Burkholder's Fabric Shop
2155 W. Route 897, Denver, PA 17517
Phone: 717-336-6692
This country store carries a wide variety of fabrics for quilters, craftspeople, and sewers. There are over 20,000 bolts to choose from. They stock lots of dress fabrics and carry a diverse selection of threads, patterns, pillow panels, foam and batting - pre-cut to the size of your quilts.
&nbsp
East Earl
Good's Store
1333 Main Street (Rte. 23), East Earl, PA 17519
Phone: 717-354-4026
Good's Store is a Walmart-like department store which carries a broad selection of household goods, clothing, toys, and hardware items. Noteworthy are the Amish and Mennonite fabrics, pattens, calicos, quilting frames, cross stitch kits, pillow panels and forms, stencils, paints and more. Although the interior of the store is not very charming, the prices are very low.
Mill Road Star Barn Gift Shop
1669 Mill Road, East Earl, PA 17519
Phone: 717-445-4542
Tucked away on a country road is one of Lancaster County's best-kept secrets. Awaiting your visit is a shop within a barn, brimming with accessories for both home and garden. Stroll around the 10-acre property and enjoy the views and the gardens.
&nbsp
Ephrata

The Artworks at Doneckers
100 North State Street, Ephrata, PA 17522
Phone: 717-738-9503
A diverse showplace for working Lancaster County artists and craftspeople. On sale is locally-made jewelry, pottery, furniture, art, contemporary and traditional quilts and other collectibles.
&nbsp
Intercourse
Country Road Flowers
3546 West Newport Road (Route 772), Intercourse, PA
Phone: 717-768-8478
Charming Amish shop focuses on dried flower arrangements, candles, local handcrafts, and painted furniture.
Good Books
3510 Old Philadelphia Pike, Intercourse, PA 17534
Phone: 800-762-7171
Lancaster County publisher nationally acclaimed for some of the best books about the Amish and Mennonites. Subject matter includes cooking, quilting, family life, parenting, culture of the Pennsylvania Dutch communities, history of the region and so forth. Books range from fiction to biography to children's stories to humor.
Lapp's Coach Shop
3572 West Newport Road, Intercourse, PA 17534,
Phone: 717-768-8712
A wide display of high-quality Amish furniture including rocking chairs made from cherry, oak, and hickory wood and oak and cedar bedroom sets, as well as quaint birdhouses and unique mailboxes. This is also a great place to buy kid toys such as old-fashion red wagons and Amish scooters.
The Old Candle Barn
3551 Old Philadelphia Pike (Route 340), Intercourse PA 17534
Phone: 717-768-8926
Observe candles still being poured and dipped the "old fashioned way" by local Amish craftsmen. Shop for the latest in candles, potpourri, and candle accessories. There are hundreds of styles and scents to choose from.
The Old Country Store
3510 Old Philadelphia Pike, Intercourse, PA 17534
Phone: 717-768-7101
Features locally made crafts rather than items from nationally manufactured gift lines. The shop features goods from over 350 local craftspersons, most of them Amish and Mennonites. There is also a nationally known quilt musuem on the premises
The Old Road Furniture Company
3457 Old Philadelphia Pike, Intercourse, PA 17534
Phone: 717-768-0478
Amish furniture such as a table, chests, and desks are created by local Amish craftsmen.
Village Pottery
3518 Old Philadelphia Pike, Intercourse, PA 17534,
Phone: 717-768-7171
Ceramic creations ranging from functional pitchers, casseroles and mugs to imaginative vases and pots. The shop features the work of dozens of local potters and ceramic artists including Ned Foltz who is known for his traditional redware with his use painting with slip (colored, liquid clay, and sgraffito (scratching a slip-covered piece to expose the red clay underneath. by numerous fine potters. The shop also features the beautiful porcelain and stoneware creations of Judith Nafziger, a famous local Mennonite artist.
Zimmerman's Store
3601 Old Philadelphia Pike (Route 340, Intercourse, PA
Phone: 717-768-8291
This simple, country grocery store has the atmosphere of the 1940s. Conventional supplies are stocked as well as fresh produce and local favorites such as apple butter.


Lancaster City

The Clay Distelfink
2246 Old Philadelphia Pike (Route 340), Lancaster, PA 17602
Phone: 717-399-1994
Custom made plates created by the traditional art of Sgraffito. Sgraffito is the decorative scratching of designs on plates. Designs vary from birds to flowers. A distekfink, by the way, is the German bird of happiness believed to bring happiness to newlyweds. The plates make a traditional gift to honor weddings, births and other events. You may want to call ahead to see if you can see a plate being made.
Demuth's Tobacco Shop
114 East King Street, Lancaster, PA 17602
Phone: 717-397-6613
Established in 1770, Demuth's Tobacco Shop is the oldest tobacco shop in America. The shop has been passed down through the Demuth family for more than 200 years.
The Olde Millhouse Shoppes
105 Strasburg Pike Lancaster, PA 17602,
Phone: 717-299-0678
18th Century restored barn houses a retail store filled with home furnishings, hand-crafted lighting, unique folk-art and gifts. They specialize in authentic as well as restored period lanterns, lamps and chandeliers. Tours of the 18th Century millhouse are also available by reservation from October through December.



Return to Lancaster County Shopping from Amish Stores and Country Shops