Country Stores and Amish Shops: Page Two
Here is a brief description of some of the more interesting country and Amish shops where you can buy locally made goods at reasonable prices.
Some of the more popular products in the area include: arts & crafts, Pennsylvania Dutch folk art, Amish quilts, pottery, weather vanes, wagons, Hex signs, finely-crafted wood furniture, fabric, Amish dolls, and other items unique to Lancaster County.
The country and Amish stores recommended on this page are either owned and operated by Amish and Mennonite proprietors or simply offer high-quality, authentic goods created by the Amish or Mennonite communities.
By no means is this list conclusive. It is simply a suggestion of some personal favorites. Since most country stores and Amish shops are so unique, half the fun is discovering your own favorite spot.
Wherever your wandering takes you, observe your surroundings thoughtfully because many of these places are attractions in themselves and can provide fascinating insight into the culture and community of the Pennsylvania Dutch.
These country stores and Amish Shops are listed by the town in which they are located. Please remember that most local stoes, and especially the Amish shops, in the region are closed on Sundays.


Leola
L.B. Ebersol & Sons, Inc.
146 Butter Road, Leola, PA 17540
Phone: 717-656-9230
Family shop specializing in handpainted children's furniture including chairs, cradles, chests, and rocking chairs.
Thomas B. Morton Cabinetmakers
30 South Hersey Avenue, Leola, PA 17540
Phone: 717-656-3799
Handcrafted furniture in a variety of styles ranging from Mission, Shaker, and 17th and 18th Century Lancaster County which shares a heavy German influence.


Neffsville
The Tin Bin
20 Valley Road, Neffsville, PA 17601
Phone: 717-569-6210
Housed in a converted barn, this charming store specializes in handcrafted tin, brass, brass, and copper reproductions of 18th and 19th Century chandeliers, lanterns, lamps and other lighting fixtures.
New Holland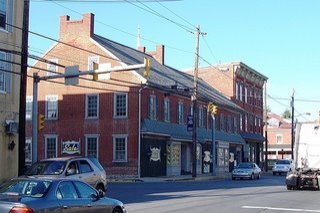 Kauffmans Country Store
Photo by the Roland Zimmerman family
Kauffman's Hardware & Countrywares
201-215 East Main Street, New Holland, PA 17557
Phone: 717-354-4606
Dating back to 1779, Kauffman's has an interesting inventory of hard to find antique hardware, tools, gardening supplies, and cooking implements.
Martin's Chairs, Inc.
124 King Court, New Holland, PA 17557
Phone: (717) 355-2177
Oak, maple, and cherry wood furniture and accessories, handcrafted from traditional 18th Century techniques handed down by generations of Lancaster County artisans.
Witmer Quilt Shop
1070-76 W. Main Street, New Holland, PA 17557
Phone: (717) 656-9526
The shop which is held in the home of the proprietor, Emma Witmer. Her bedrooms have been converted into showrooms displaying over 150 quilts expressing modern patterns, traditional patterns, as well Emma's own designs.
Paradise

Zook's Family Crafts (formerly, "Will-Char - The Hex Place")
3056 Old Lincoln Highway (Route 30 East), Paradise, PA 17562
Phone: 717-687-8329
In addition to housing the area's largest selection of Hex signs, both wholesale and retail, this must-see shop offers the works of over 300 local Amish, Mennonite and other Pennsylvania Dutch craftsmen. Browse among their windmills, Amish stars, Amish dolls, whirlygigs, lawn decorations, weather vanes, decorative wood signs, wagons, mailboxes, and much more. Zook's also carries items that can not be found anywhere else in the area such as Pennsylvania Dutch "Farm House" door stops and Amish Christmas cards.
&nbsp
Reinholds
&nbsp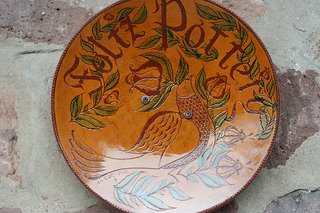 Photo by Katie Reing
Foltz Pottery
225 North Peartown Road, Reinholds, PA 17569
Phone: 717-336-2676
Handmade pottery based on a 200-year tradition of redware pottery. The work of Ned Foltz is a master of the old forms such as sgraffito and slipware. Call the studio in advance if you would like to watch the artist at work.
&nbsp
Ronks

Dutch Haven
2857A Lincoln Highway East, Ronks, PA 17572
Phone: 717-687-0111
Pleasant little gift shop known as Lancaster County's original Amish craft store with over 10,000 items. This shop sells distinctive local furniture, jams and jellies, gifts, and other Amish, Mennonite and Pennsylvania Dutch souvenirs. Time Magazine once declared that they made the best Shoofly Pie in America. See for yourself if that is true.
King's Homestead
3518 West Newport Road, Ronks, PA 17572
Phone: 717-768-7688
King's Homestead is a two-story shop crammed with local handcrafted items, knickknacks and collectibles. There are locally made baskets, pottery, wooden toys, dolls, bird houses, lawn furniture, gazebos and more.
Lapp's Wooden Toys
3006 Irishtown Road, Ronks, PA 17572
Phone: 717-354-2278
Great place to find locally crafted children's furniture, dolls, doll houses, toy chests, wooden trucks, train sets, high chairs and more.
The Outhouse
2853 Lincoln Highway East (Route 30), Ronks, PA 17572
Phone: 717-687-9580
Part country store, part fun house, the whole family will get a kick out of The Outhouse. The shop emphasizes the humorous side of Pennsylvania Dutch and Amish country with loads of strange and unusual gifts and attractions with a Lancaster County flavor.


Strasburg

Country Creations
321 North Star Road, Strasburg, PA 17579
Phone: 717-687-8743
This is a fine country store housed in a 100-year old barn, featuring three floors of country furniture, lighting, gifts and other accessories.
Eldreth Pottery
246 N. Decatur Street, Strasburg, PA 17579
Phone: 717-687-8445Traditional salt-glazed stoneware and Pennsylvania German redware pottery handmade pottery made locally in Lancaster County. Salt-glazed pottery is a 500-year old German tradition in which salt is thrown into the kiln once it reaches 2,250 degrees. This causes the salt to change into a vapor which adheres to the clay, forming a unique glass coating on the piece.





Return back to Country Shops and Amish Stores: Page 1

Return to Lancaster County Shopping from Country Stores and Amish Shops