Railroad Museums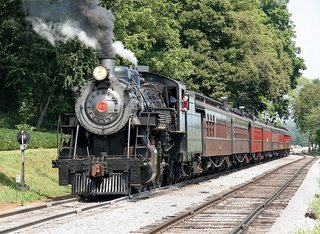 Historic Strasburg Railroad
Photo by Ray Fudge


Visiting Lancaster County's railroad museums is a fun way for the entire family to learn about a significant part of early American history.

Railroad Museum of Pennsylvania
300 Gap Road, Strasburg, PA 17579
Phone: 717 687-8628
This museum is an extremely fun, family-friendly museum. The museum displays over 100 locomotives and cars from the mid-19th and 20th centuries -including the priceless Pennsylvania Railroad Historical Collection. Several key pieces of their collection are accessible to the public on a regular basis, including a steam locomotive cab, a caboose, and a passenger car.
Since the museum wishes to preserve the locomotives for future generations, not all the cars are open for visitors to actually walk inside. However, visitors can get up close to observe closed pieces from ground level. The museum does a good job in providing stairways and special platforms to allow visitors to get a close-up glimpse at the interiors.
The facility also houses extensive exhibits of railroad artifacts, plus priceless art work, books, photographs and corporate railroad material.
Throughout the year, the museum conducts educational programs for all ages, provides tours and holds special events.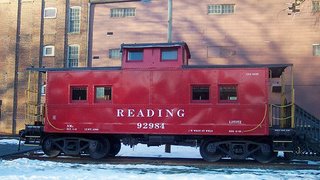 Old-Fashioned Railroad Car
Photo by Carla Fontaine


Strasburg Railroad
Route 741, Strasburg, PA 17579
Phone: 717-687-7522
More than just a railroad museum, the Strasburg Railroad provides 45-minute rides for your entire family aboard coal-burning locomotives along the panoramic countryside where you'll see Amish farmers working in their fields; Amish children playing nearby; livestock grazing; and, colorful crops waiting to be harvested. You can have lunch aboard the dining car or you can disembark at the Groff's Picnic Grove and take another train back to the station.
The Strasburg Railroad was founded in 1832 and served as a shortline connecting Strasburg to Paradise and delivering passengers to the main line of the Pennsylvania Railroad. The actual station was built at the turn of the century.
During the nine-mile ride, you can choose from different restored coaches including the plush parlor car, the Marion as well as an open-air observation car.
Additional activities designed specially for the kids include:
The Cranky Car: these hand-propelled cars, which date back to the 1930s, allow little children to take charge as they "crank" their way around a track.
Cagney Train: Children will love this miniature steam train that was built in around 1920 and was originally used at an amusement park.
Pump Car: Operate one of the vintage Pump Cars - with attendant - along a short track.
Switch Tower Tour: Your whole family can tour this 1885 Pennsylvania Railroad signal tower. Get a bird's eye view of the beautiful countryside as well as approaching trains.
Farm Engine Museums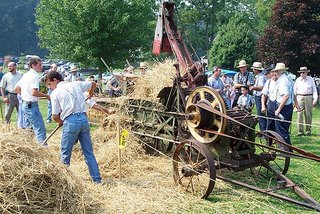 Old-Fashioned Baler
Photo by the Roland Zimmerman family


Rough and Tumble Engineers Museum
4997 Lincoln Hwy, Kinzers, PA 17535
Phone: 717-442-4249
This museum features a large collection of historical equipment, most of it having to do with early 20th Century American farming, but also including steam railroading and antique autos and trucks. At the museum you will see:
Kerosene and gasoline powered farm tractors going back to the early days of 1900.
Stationary Engines powered by steam, kerosene and gasoline, including some truly huge pieces retired from factories and ships.
Threshing Machines , sometimes linked to old Bailing Machines that do live threshing of local grains
Mammoth Steam Traction Engines that used to roam the prairies and power threshing and other farm machinery.
An operating, full size Saw Mill.
Antique Automobiles and Trucks.
Additional activities at the Rough and Tumble Engineers Museum include rides aboard the museum's Shay Railroad which will take you around the vast museum grounds; the "Little Toot RR" which is a miniature steam engine especially designed for the little ones; and Model Engineering where those interested in steam and internal combustion engines can learn about building miniature engines.
Sickman's Mill
671 Sand Hill Rd., Pequea, PA 17565
Phone: 717-872-5951
Built in 1793,this 4 1/2 story mill displays antique farm machinery over a century old. The facility also serves as a popular point to go tubing on the Pequea Creek.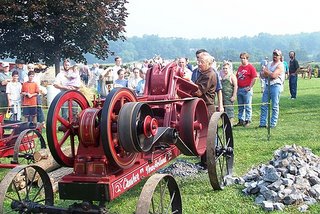 Historic Rock Crushing Machine
Photo by the Roland Zimmerman family
Toy Trains
The Choo Choo Barn
Route 741 East, Strasburg, PA 17579
Phone: 717-687-7911
The Choo Choo Barn is a model railroad museum designed for railroad enthusiasts of all ages. The museum's 1,700 square foot train layout features over 150 hand-built animated figures and vehicles and 22 operating model trains.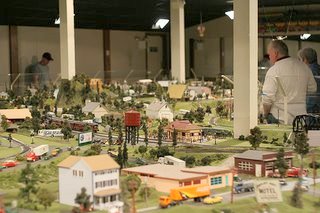 Choo Choo Barn Toy Train Layout
Photo by Howard Brier
Please note that the Choo Choo Barn is closed each year from January through March. This is so the museum can completely clean their display, repair any broken parts, and add new features and layouts.
National Toy Train Museum
300 Paradise Lane, Ronks, PA 17572
Phone: 717 687-8976
This toy railroad museum contains one of the most extensive toy train collections in the world. The collection includes miniature trains that are accurate replicas of their full sized counterparts as well as toy trains that are pushed, pulled or rode upon by children. The museum exhibits trains from the mid-1800s through the present day.
The National Toy Train Museum building resembles a Victorian Era railroad station and the walls are literally lined with rows of shelves with even more toy locomotives and rail cars.
Your entire family will have the opportunity to help operate the museum's five train layouts. Each large layout represents a different period of the 20th Century and boasts an interesting array of period accessories and extensive scenery.
Train videos run continuously on a large screen television system.


For more Lancaster County museums, see also the following. Please note that since the themes of the museums often overlap, some of the museums may be listed under more than one category.

Lancaster Family Museums

Mennonite and Amish Museums

Pennsylvania Dutch Folk Art Museums


Return to Lancaster County Museums from Railroad Museums